Banks face a hard time while new business models arise: FinTec startups, cryptocurrencies, Initial Coin Offerings (ICO) and Security Token Offerings (STO), among other digital assets exchanges. "Banking is essential, banks are not", Bill Gates said in 1994. Ever since, experts in the digital world, from market leaders like Google, Facebook or Alipay in China to FinTec startups conquer market shares from traditional finance institutions and banks. Their data driven focus on customer needs and insights for a better mobile and overall customer experience convinces clients and investors alike. For years, "Banks versus FinTec" or "The FinTec Revolution" topics became ever more popular. Representatively, since 2015 also The Economist gives more space to artificial intelligence and the digital transformation of the finance industry in a special report: "An uneasy symbiosis".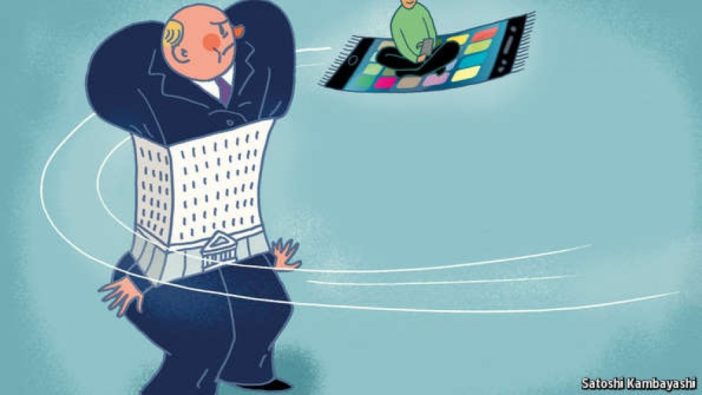 The biggest challenge in the "digital revolution era" might well be the traditional mindsets of employees. Changing leadership and adapting culture to new business environments are usually more difficult than to develop new technologies. The creative disruption of classical business models does not mean the end of traditional industries. However, in order to defend market shares and grow, the established finance industry needs to better focus on customers, and not on their own business. The "digital revolution" brings huge challenges and opportunities alike to any industry. Today, traditional industries can learn from the failures and success of those companies that have opened their doors for digital innovation earlier.
Trust is the key to a sustainable investor relationship
Governments let social media run riot. However, they shall not make the same mistake with money, states a more recent article in The Economist in June 2019: "Facebook wants to create a global currency". The Libra hurdles are as big as its mission: "…to enable a simple global currency and financial infrastructure that empowers billions of people" in the Libra White Paper. However, already the title of Nobel laureate Joseph Stiglitz recent article doubts Libra's sincerity: "Every currency is based on trust, but only a fool would trust Facebook's cryptocurrency." This outlook is exciting: Facebook's interest is its own survival. And still – Facebook tries to build the trust of its digital currency on "traditional" fiat money, by pegging the "exchange rate" to a currency basket of traditional currencies. But is Libra really trustworthy? Only the future will tell.
Establishing trust and a sustainable investor relationship are keys to raise money in capital markets, including blockchain and crypto based corporate funding. In case of the latter, key performance indicators are market specific marketing and communications platforms and documents, such as a professional white papers, transparency on communication platforms and social channels, among others.
Asymmetric information requires professional communication
As G.A. Akerlof has found in his famous paper "The market for « lemons:» Quality and the market mechanism" already in 1970, asymmetric information is a key in most markets with sellers and buyers, or lenders and investors. As the asymmetric information problem, – due to fraud and unregulated markets, – is even worse in new digital finance markets as in more regulated traditional finance, professional communication on all levels and platforms is the key to new customers in rising digital finance markets. Asymmetric information is the crucial factor in any lender-borrower relationship, both in case of bank credits or capital markets. In this context, it is crucial to examine the market potential of new financial instruments, such as cryptocurrencies and other digital assets. Security tokens, among others, grant digital capital market access without any need to use the services of investment banks. In particular, SMEs and startups that face problems of not getting a bank credit might look for alternative funding sources, including new technologies such as STOs. However, information as regards credit quality, the credibility of the business model or the availability of relevant collateral is difficult to assess for potential investors, and subject to high risk in the case of startups.
The basic needs of human beings do not change in a digital world. However, what will change are the methods of how we take decisions that are ever more driven by smart data and business intelligence. Ultimately, the beauty of digital business and artificial intelligence at it's best is that this technology does not aim to replace employees, but to complement and support them. There is much hope that traditional finance and banks are increasingly aware of above challenges and ask the right questions that ultimately lead towards a "happy end" of their digital transformation.
The willingness to learn and change
A crucial aspect along this road will be executive education and the willingness to learn. Academic institutions, schools, coaches, trainers and teachers play an important role and are at the source of change. Despite their mission for innovation and educating young people to move society forward, even universities have rarely been at the forefront of digital innovation. However, today ever more schools and academic institutions have discovered the benefits of digital innovation and go for drastic changes. In the next 10 years, we are likely to see a complete transformation of modern education not only in academic worlds but also in other industries, and one of those is finance and insurance.
In an ideal world, banks and FinTec companies collaborate in a positive attitude with a strong focus on the customer and create the best possible solutions together. This is a good advice against another widely spread fear that robots replace employees and unemployment will rise. Digital business and artificial intelligence shall not intend to replace human beings, but aim at supporting and complementing human intelligence.
Hope for positive human and artificial intelligence hand in hand
There are several signs and reasons to believe that the outcome will be better than commonly feared by many banks today. First, a closer look at the ever increasing bugdets spent by banks in order to develop their digital knowledge, transformation and digital solutions show that they are aware of the necessity. Awareness is always a good first step. Second, announcements by stock exchanges such as the Swiss SIX Digital Exchange already in July 2018 that "… "It will be the first market infrastructure in the world to offer a fully integrated end to end trading, settlement and custody service for digital assets" in a "safe environment" planned to start in 2019, are positive signals into the right directions. Ultimately, there is much hope that we can live in an era of "positive human and artificial intelligence", where banks and FinTec, as well as men and machines live happily together.