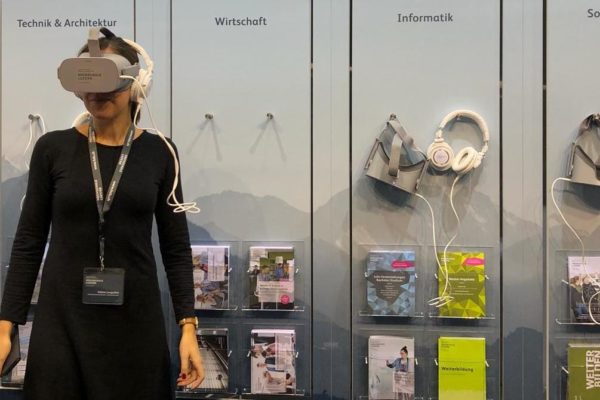 Your virtual HSLU campus tour
Fancy exploring the Lucerne University of Applied Sciences and Arts from the comfort of your own home? Thanks to virtual reality technology, you can take a virtual campus tour and immerse yourself in your potential future life on campus.
Discover the unique view from the roof terrace of the Lucerne School of Business, experience piano concerts at the School of Music, design workshops in the Digital Ideation degree programme or the iHomeLab at the School of Engineering and Architecture on your home computer or mobile device. The 360-degree panoramic view will give you a feeling of total immersion and you will love the amazing aerial photographs of Lucerne's old town and of the Zug-Reotkreuz campus.
Join us at our exhibition booth and try on our VR headset for a virtual tour. You will find us here:
Maturanden-Messe in Zürich: 1 September 2021
Maturanden-Messe in Bern: 13 October 2021
Zentralschweizer Bildungsmesse in Luzern: 11 to 14 November 2021
Master-Messe in Zürich: 17 November 2021
Some impressions from the VR tour: