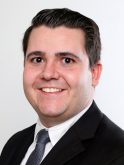 by Daniel Müller, Student of MSc International Financial Management
After completing an international Master's programme with the IFM in Switzerland, but not yet having a lot of experience abroad, I decided to study for a second master's degree in a shorter time at the University of the Sunshine Coast (USC) in Queensland, Australia. The opportunity to receive the degree "Master of International Business" with one additional semester and visit a new country was too tempting. Therefore, I started my adventure in February 2019 and moved to Sippy Downs at the Sunshine Coast.
The University of the Sunshine Coast is highly modern with heaps of nature. Even kangaroos live on the campus and their sighting has always sweetened my day. The program itself was quite different than the IFM back home. First, through the Master of International Business the courses were more general and less finance-focused. Second, the Australian education system differs from the Swiss: Instead of having exams at the end of the semester, I had to complete four courses and each of them had three assignments in form of essays, reports and case studies during the semester, which led to a higher workload during the semester.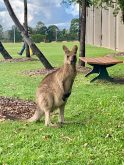 The fact that the IFM had already been held in English facilitated the semester abroad, especially writing assignments. The lectures at the USC were well structured and could even be viewed again online. Apart from this, a lot of help was offered from USC to achieve the best possible results on my assignments. Furthermore, with USC International the university offered help with the application, enrollment and general questions about living in Australia.
Besides studying, I had the opportunity to travel around the Sunshine Coast and Australia. In a few hours you can visit Brisbane, Byron Bay or Noosa from the Sunshine Coast. There is also a domestic airport which offers flights to Melbourne and Sydney, which I used during the week-long mid-term break.
The semester abroad allowed me to expand my international network with people from Australia, Germany, India, Indonesia, Norway, Sweden, and the United States as well as to enlarge my cross-cultural knowledge. Accordingly, the USC offered not only the opportunity to study in a whole new environment and improve my English, but also meeting new people and travel Australia at the same time. I have developed enormously during this semester not only professionally, but also personally.
I would like to thank everyone who made this semester an unforgettable experience, especially Stefan Hunziker, Head of the MSc IFM Programme from the Lucerne University of Applied Sciences and Arts, as well as Liani Eckard, International Coordinator from USC International.