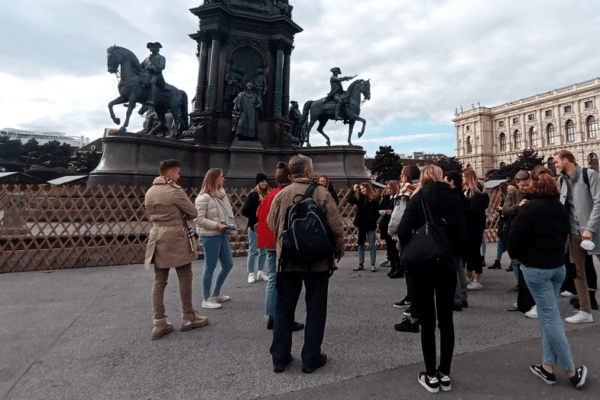 Major Tourism and Hospitality Management
My name is Tatiana Cuadra, and I am a student of the International Bachelor Administration, Major in Tourism Program at HSLU. As part of the Tourism and Destination Management module we had the opportunity to visit the wonderful city of Vienna. The program included diverse and interesting presentations from several businesses within the tourism industry.
New concept of hostels
We stayed at the new Jo&Joe hostel with an innovative concept, located in the same building as IKEA. It has a terrace with a lot of potential for events, where guests have all the modern comforts, and the atmosphere is friendly and youthful. Thanks to the talks we had at the hostel, we were able to get a better vision of a recent hotel opening, and the strategy of belonging to a great hotel alliance.
Cultural knowledge
Through the guided visits the Kunsthistorisches Museum of Vienna and the Museum of Applied Arts offered us, we had the opportunity to gain insights into event development and the economic and logistical organization involved in attracting tourists.
The Destination Management Organization in Vienna opened its doors to us and provided valuable information on how to develop a marketing plan, create and establish a brand concept among the different businesses and the possible problems that can arise along the way. In this way, it allowed us to look at possible strategies for tourism in a large city like Vienna.
On the last day we did a walking tour through the city center of Vienna, where we could see iconic places such as Stephansdom, the pedestrian streets with its emblematic buildings, and its coffee houses with their traditional pastry. We ended the tour at the Musikverein in Vienna, where through the guided tour we were able to learn more about classical music and the services most desired by tourists.
The trip to Vienna taught us about tourism in a big city and its relationship with its stakeholders, which will be of great help to us at the end of our studies at HSLU. Additionally, it gave us the opportunity as a study group to get to know each other better and strengthen the bonds between colleagues, studying and learning while having fun at the same time. A trip that I highly recommend doing!
Author: Tatiana Cuadra
November 2021