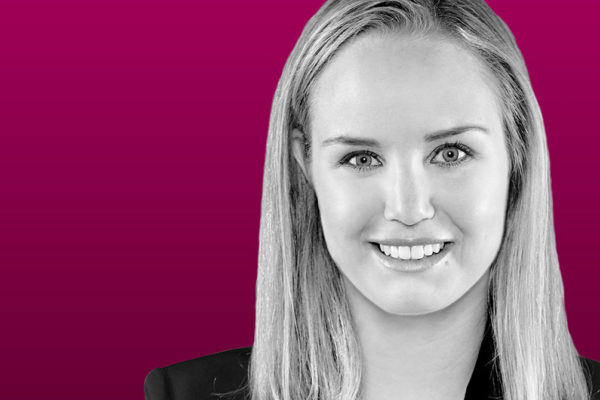 «I never wanted to be…
... a mere number among thousands ever again.»
This is how Jolanda Grüninger felt when she first started looking around for a study place. A number among thousands? That was not for her. What she wanted from her time as a student was bespoke support on her way to success. She found what she was looking for at the Lucerne School of Business, but there was still room for positive surprises.
«I always knew I was going to study. However, I started to hesitate after an all-day information event at a certain university. I found the live broadcast for the interested crowd divided into separate rooms and the general anonymity off-putting. I felt like a number among thousands – a sobering experience. Does studying have to be like that?» Jolanda was full of doubt. Not so much her friends, who were studying business at the HSLU. «We have small classes and everybody knows everyone, students and lecturers alike,» they said. And they went on to address another one of Jolanda's worries: «What is particularly great is that you are actually quite free in how you combine your study subjects.» Jolanda became curious and decided to give it another try by going to an information event at the Lucerne School of Business. «Eager to learn more, I took my place in the venue and all my doubts were blown away. The atmosphere was personal, the lecturers were approachable and I knew right away: this is where I want to study.»
This was the beginning of Jolanda's academic career. When picking a degree programme, she experienced yet another instance of «love at second sight» after that second information event had changed her mind about if and where she wanted to study. Studying Marketing and Communication had been Jolanda's declared goal for a long time. However, it was only after the first study year, which provides an overview over the various disciplines, that she realised that, «even though PR and customer journeys are exciting, Banking and Finance was my way to go.»
And so she began her second year by specialising on this focal point. And what a stroke of luck that was – Jolanda did not only learn to love private equity and hedge funds this way, it is also how she met her boyfriend. There, too, it took a moment for the sparks to fly. «It was the group work that brought us together – we got to know each other well rather quickly,» Jolanda says, and smiles at the memory of it.
Graduating from her bachelor's degree course was hard-earned. Among the students in her class, she was the only one who had entered the course without a prior banking apprenticeship. «It was invaluable to have the support of the lecturers whenever I needed it,» she says, looking back. After earning her bachelor's degree, Jolanda was ready for the world of business and was promptly hired by Credit Suisse, where she went on to enter a consecutive work-study master's programme. «I wanted to expand and individualise my knowledge about the financial sector, specifically in the area of Leadership.» This proved to be a wise decision, considering the many exciting specialisations and development opportunities in Banking and Finance.
Today, Jolanda works for the VZ Vermögenszentrum, advising corporate clients in her preferred field of activity outside the major banks. «I love my job, my scope of action is considerable. Equipped with the knowledge and skills acquired at the Lucerne School of Business, I was able to choose exactly the kind of path that suited me.» And that she did very successfully.
Would you like to study in an environment built on partnership? We are looking forward to seeing you at our all-day information event.